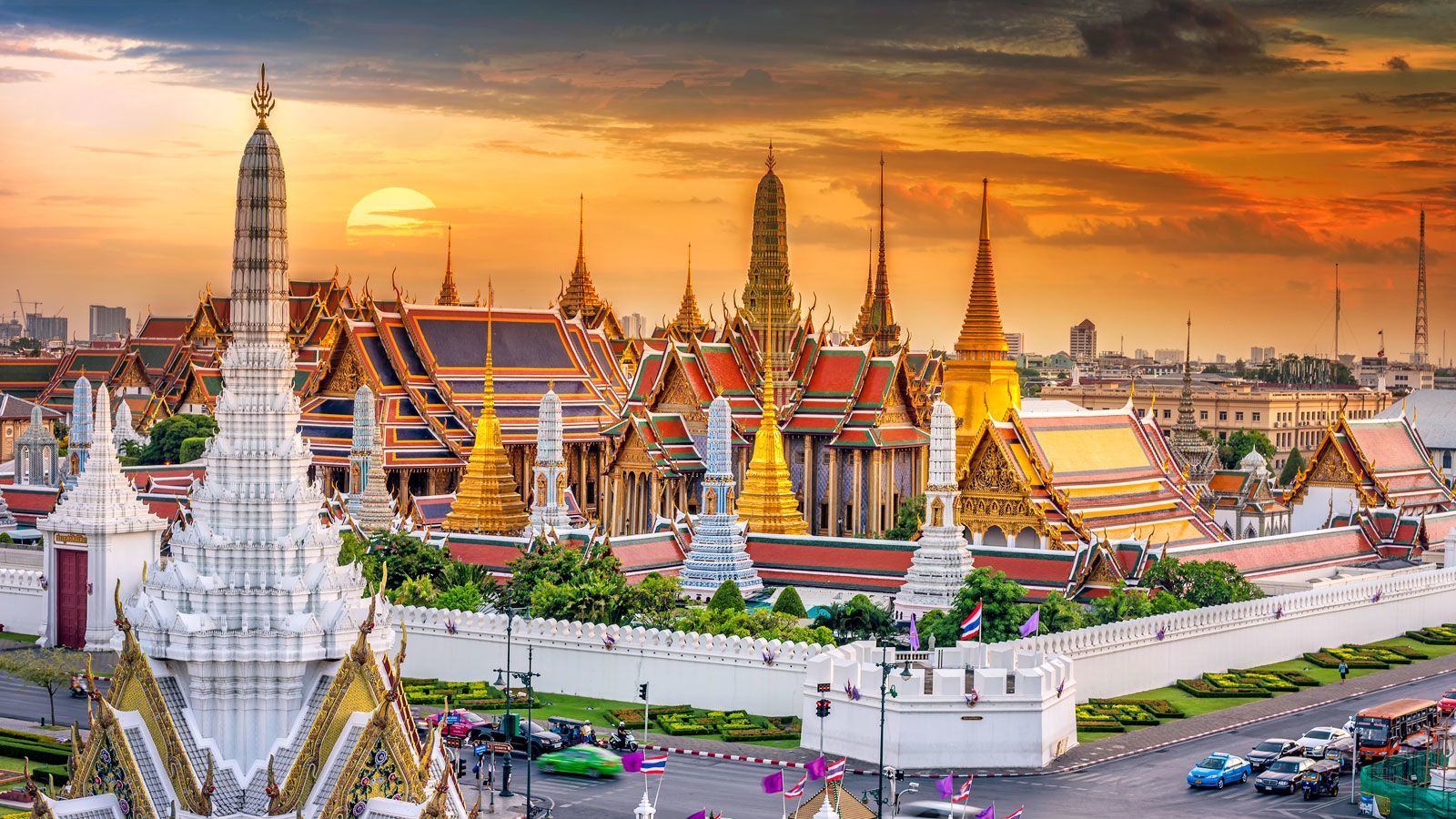 Bangkok, Thailand's capital, is a large city known for ornate shrines and vibrant street life. The boat-filled Chao Phraya River feeds its network of canals, flowing past the Rattanakosin royal district, home to opulent Grand Palace and its sacred Wat Phra Kaew Temple. Nearby is Wat Pho Temple with an enormous reclining Buddha and, on the opposite shore, Wat Arun Temple with its steep steps and Khmer-style spire.
Phuket, a rainforested, mountainous island in the Andaman Sea, has some of Thailand's most popular beaches, mostly situated along the clear waters of the western shore. The island is home to many high-end seaside resorts, spas and restaurants. Phuket City, the capital, has old shophouses and busy markets. Patong, the main resort town, has many nightclubs, bars and discos.
Pattaya is a city on Thailand's eastern Gulf coast known for its beaches. A quiet fishing village as recently as the 1960s, it's now lined with resort hotels, high-rise condos, shopping malls, cabaret bars and 24-hour clubs. Nearby, hillside Wat Phra Yai Temple features an 18m-tall golden Buddha. The area also features several designer golf courses, some with views of Pattaya Bay.
Bangkok is always among the world's top tourist destinations. The city is a true tourist paradise, proved by the growing number of travelers coming each year.
Besides the city itself, Bangkok is also surrounded by many interesting provinces worth visiting.
The north of Bangkok borders Nonthaburi and Pathum Thani Provinces, with tourist attractions like Koh Kret and Lotus Museum.
The east of the city is next to Chachoengsao, a small province which is full of interesting places and activities. Tourists can pay homage to Luang Pho Sothon Buddha Image at Wat Sothon Wararam Worawihan, watch flying foxes or fruit bats at Wat Pho, see the golden church at Wat Paknam Jolo, and pray to the giant reclining Ganesh statue at Wat Saman Rattanaram. There are also old markets for you to visit and shop such as Ban Mai Market, Nakhon Nuang Khet Market, and Khlong Suan Market.
The south of the city borders Samut Prakan Province and the Gulf of Thailand, with tourist attractions like Bang Pu, Ancient City, and Samut Prakan Crocodile Farm and Zoo.
The west of the city is next to Samut Sakhon and Nakhon Pathom Provinces. Tourist attractions include Don Kai Dee Benjarong Village, Phra Pathom Chedi, Sanam Chandra Palace, Don Wai Floating Market, Sampran Riverside, and Thai Human Imagery Museum.
Things to do in Bangkok
There are a great variety of tourist places in Bangkok, mostly historical attractions and temples with elaborate architecture and art. Famous temples are Wat Phra Kaew, Wat Pho, Wat Arun, Wat Phu Khao Thong, Wat Ratchanadda, Wat Traimit, Wat Benchamabophit, Wat Bowon, and Wat Sutat.
There are also palaces, museums, parks, and a big array of shopping places, from luxury malls to flea and street markets like Chatuchak Weekend Market, Sampeng Market, and Pahurat Textile Market.
Bangkok nightlife is another highlight that has attracted many of tourists from all over the world.